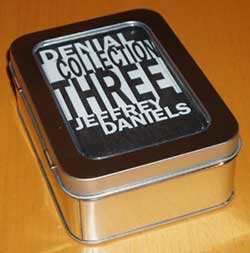 My new project is finally done. I'll figure out the postage and start mailing them this weekend. It's a box set and requires a tape drive and joystick (no memory expansion).
The box version contains seven modest games. A color disk version with six games will also be available on request. I eventually plan to make the game programs that can be played without additional components available online in the future.
The collection is a concept piece about dichotomies. Ten Ten, the only previously released game, is an example of the theme. I wanted to approach the collection as a musician would assemble an album (consider this my "Dark Side of the Moon"). I couldn't decide if I should tell all about the contents or let it be a surprise. A mystery box.

I really want to recreate the experience of tape loaded games. I noticed that after waiting for a game to load, I'm more likely to explore its finer details; unlike the average 2.5 seconds I give to roms via emulation.

Those of you with the first or second collection should know what to expect. Basic games. A few other surprises are included this time.
I'll have to get to the post office in find out how much postage will be first, but I estimate shipping to average US$5. The box is kinda heavy, so I should verify that first.
I wanted to make it a winter gift for when you guys are all snowed in, but obviously, I can't make enough (or afford to ship) to all members. Asking for a donation to offset shipping would help me know how many to make. PM your shipping address if you think you may be interested.
Also, if you want me to explain more, I will.