40 and 80 column boards
From DenialWIKI
Introduction to 40 and 80 column boards for the VIC-20
The VIC-20 was popular but suffered stigma among "serious" computer users (i.e. programmers & researchers) because of its 22-column display, which they felt was too limiting. To remedy this several third party companies released display boards which plugged into the VIC-20's expansion port, thereby giving it the ability to display 40 or 80 columns of text at once.
VTE-40
Vendor: MSD, Inc.
Software: 4 KB terminal program (40 column screen)
MR 40/80
MC 6845
Data 20 Video Pak
Includes 16K, needs extra power supply.
http://www.nemetzpower.de/Denial/Data20-16k.jpg
Data 20 Display Manager / Protecto 80 Cartridge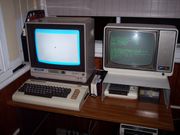 This cartridge takes over the video functions of the VIC, and allows the display of 40 or 80 columns B+W, using its own DIN port.
The VIC chip is still functional, so it is possible to setup a dual monitor system. Regular POKE statements can be used to update the original VIC chip screen.
This cartridge has space for expansion memory (U3-U6), which is populated in the Data-20 8K units.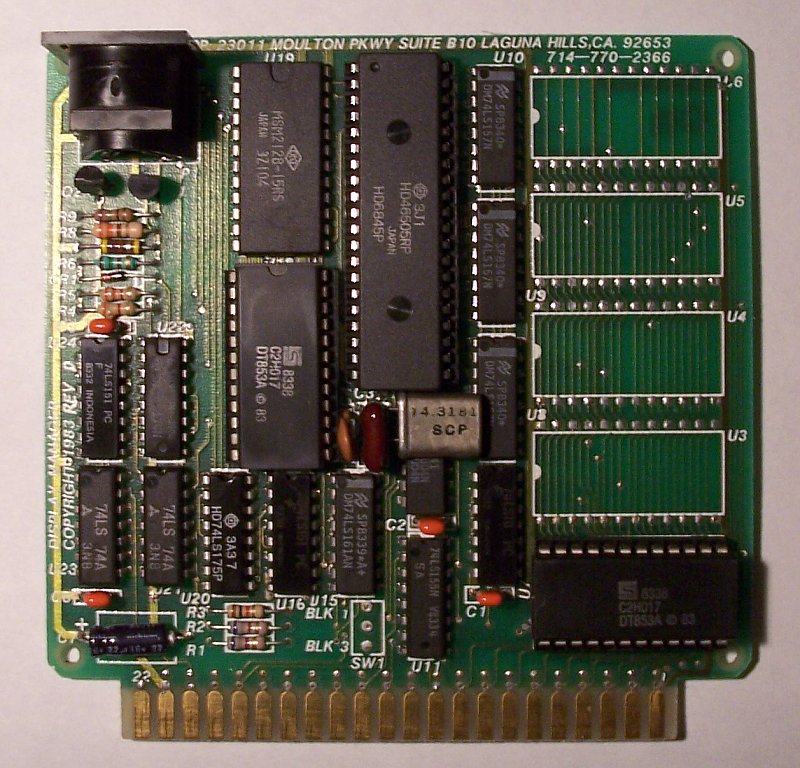 http://www.mainbyte.com/vic20/display_manager.jpg
Technical
Memory Map:
$9BF8 CRT Controller HD6845 / control register
$9BF9 CRT Controller HD6845 / data register
$9BFC Mode Register
     Bit 0: Character set. 0 - upper case, 1 - lower case
     Bit 5: 40/80 Columns. 0 - 40 Columns, 1 - 80 Columns
$A000-$A7FF BIOS ROM
     sys 40969 - 40 column mode
     sys 40972 - 80 column mode
     sys 40975 - return to vic 22 column screen
     sys 40978 - restart 40 or 80 column mode without clearing screen contents
$B800-$BFFF Video RAM

Function Keys:
F1 shift
F2 unshift
F3 Erase to end of line
F4 Erase to end of screen
F6 Screen dump
F8 Terminal mode

Links